(09-11-04) Well, the Beast is sold and on it's way to Atlanta where it will start its new life with Bryan Feldman. If I could have hand picked a new owner I could not have found a better person to buy the car. I am really happy that it will be in the hands of someone who has the ability to understand its history and what it is made of.
Bryan is also getting many of the parts that go with the car. After everything settles and I have a chance to look over my remaining MR2 parts I plan to sell the duplicate and aftermarket parts that I have left over. I have some aftermarket body parts, mechanical parts and some electrical stuff. I also have a spare set of stock wheels a MK2 hood, air bag, high performance clutch, and other small parts.
My wife June, has a 93 NA automatic. She wants a 95 NA (red or black) automatic with tan leather. I am looking around for a low miles, mk2 automatic transmission and the interior mechanical and trim parts to do a conversion from a manual transmission. If any of you spot an ad for the automatic parts, let me know.
I have been off the pain drugs for 48 hours which is a good thing. My first doc visit is next Thursday morning here in Birmingham. That will be the first time since surgery that I have seen my foot.
(08-27-04) I got a call from an old friend, Bryan Feldman, in Atlanta, GA yesterday. Years ago, Bryan contacted me and asked if he could have permission to do a website for the Beast. Bryan was a fan of the car and wanted to offer his services. I was excited about the prospect and worked with Bryan to provide him what he needed to get the site up and running. Bryan did an excellent job with the site and over time I asked if I could take it over and expand it. We were making so many changes and I didn't want to over work Bryan by asking him to constantly add material. The site grew over the years into what it is today. I was getting hundreds of e-mails a week asking how to do different modifications. The site has served as a resource for owners in many countries who want to make their MR2 a better machine.
Bryan saw the ad for the Beast on X-Cars. He made a decision that he wanted to own the car and called me. We have agreed on a price and a date for delivery which will be a week after I return from surgery in CA. Bryan will be an excellent owner and will take over and continue working with the Beast website.
My plans are to recover from this next operation, to remain active with respect to MR2's, and to help others plan meets.
(07-29-04)
Friends,
I wanted to let you know that I am going to have surgery again on Aug. 31st at Saddleback hospital in Orange County CA. My California doc called yesterday after he got the new CT Scans that were done here in Birmingham. He said that there is not enough bone holding the new ankle to my tibia. In fact, he said that he really didn't understand how I was walking on it at all. Some of you know that the three top screws broke nearly two months ago. The docs originally felt that it was not necessary to replace them and for me to walk on it for a month and see if that would stimulate growth. I guess that plan didn't work.
We are flying out to CA on Aug 29th, meeting with Dr Brage on the 30th and surgery is scheduled for Tuesday Aug 31st. Dr Brage plans to remove the broken screw parts, replace the screws and implant an internal bone stimulator in the ankle. I will probably be in the hospital several days and will fly home when they feel I'm stable enough to make the trip.
Dr Brage said that it might be a number of months (3 to 9 months) before I can walk again after the surgery. I believe that they want to see some sign that there is adequate healing before they let me start weight bearing.
So.....that's the plan. We have a month to do as many fun things as I can cram in. I am walking now, mostly without pain but the doc said it could break at any minute. My agenda is not to worry about it and to carry on as usual. We are having to change a lot of plans we have made for the summer and fall but my faith is strong and I know that it will all work out OK.
I am putting the V-6 project on hold until I am able to operate a clutch again and strong enough to work on the swap. It may be 6 to 9 months before that happens. I have accumulated a number of parts for the project and may sell them and buy new ones once I actually get things rolling again. I don't like to let mechanical things sit around.
If you are planning a V-6 swap and want to talk about purchasing these parts, e-mail me at: ace123jim@aol.com. I have a 2001 VVTI Solara engine and ECU with low miles, a new stock MR2 turbo muffler, a header system and B pipe being built, the passenger side engine mount, Fidanza light weight flywheel and several other parts.
I am not happy about this recent change in my life and thought that I was past the point of having to worry about my ankle again. My doc says that the surgery is not an option and that the bones in the ankle will break without it. So...here we go again.
Jim G.
(07-23-04) We are still waiting to remove the Beast engine which will kick off the V-6 project. I have been busy in addition to Jimbo's busy schedule. I talked with Brad Bedell and he is making good progress with the header system for the engine.
If you are interested in buying the 340 rwhp 3sgte engine, Haltech system (with current tuning) and the air/water intercooler system from the Beast, e-mail me (ace123jim@aol.com). The price is $9950., ready to install. I have more than twice this amount in engine work, parts and tuning.
(07-06-04) The Beast is at Barrett Automotive in Pelham, AL while parts are being collected for the upcoming V-6 engine transplant. I have been talking with Brad Bedell and Mitch Barbatos about the swap and both guys have provided excellent information and assistance. The V-6, from a 2001 Solara VVTI has been purchased and is sitting down at Jimbo Barrett's shop (Barrett Automotive) where the swap will be done.

I ordered a set of headers and a light weight flywheel from Brad. I have been busy assembling a conversion manual for the swap. There seems to be a lot of information out there and I want to try to get as much of it as possible in one place. I am one of those people who asks a lot of questions on the front side, collects the parts, machines what I can't buy, and depends on friends like Brad and Mitch to steer me in the right direction, before I start a project. I will try to keep the site updated with information and photos as quickly as events change.
(06-08-04) The SE2004 Chattanooga meet has come and gone but was a lot of fun to attend. There were a lot of excellent machines at the meet including Brian Hill's world class Mk2 that has been featured in a number of import magazines recently, including the recent issue of Import Tuner. Brian is one of my best buddies and it's fun to watch him move up through the ranks and develop one of the top MK 2's in the US.
I had a wonderful time driving Mitch's V-6 powered mk2. It may have profound implications on my thinking about engines as I decide to replace the engine in the Beast. The Beast engine is one of the best all round engines I have even driven. It's flexible, strong (340 RWHP), and dependable, but I am a low end junkie and love low end power. I am considering doing a V-6 swap into the Beast and selling the entire Beast engine, transaxle, Intercooler system, and "Hitman" tuned Haltech system. NO prices have been set and the engine and systems will be only sold as a package to insure that it's integrity will not be compromised.
First three photos are of Brian Hill and his Mk2. Brian's car took best overall trophy, best Interior and something else (can't recall). The Beast took best MK2, best Exterior and highest HP (dyno). The red car is Mitch's V-6 conversion, Jerry Preisel (standing on left) is holding his notes, Glen Glasford's Mk3 is next followed by June Griffin, Mike and Patti King. The last shot is of Mitch (center), builder of the V-6 car.
(03-18-04) After two years I have finally taken on the bright/dim headlight mod. I honestly hated to start drilling into the rear of the glass light units. One slip and it would be all over for the lights. What I discovered was that the glass 4701 high beam units were designed to come apart. They came with a single filament bulb for high beam only. I thought that if I could figure out away to swap the single filament bulb for a dual filament bulb I could have both bright and dim lights in the same sized glass housing. The 4701 lights have a soft white circle of foam over the two electrical prongs. I carefully cut this away from the glass and pulled it off. Under it I found a small screw and removed it. The entire filament assembly could be removed from the glass housing. That left a 3/4 square hole. I used a die grinder and carbide bur to open it up to 1 and 1/8th inch so a dual filament GE Xenon bulb would slide in. Black silicone sealer sealed it off and NAPA parts had the correct electrical connectors for the new bulbs. I may use the remaining round projector lamps to operate with the turn signals, but that is undecided.
(02-23-04) The Beast was out for a romping good time this weekend. We took it out on the back roads south of Birmingham and let it enjoy the day. It's always like letting a wild stallion out of it's pen, racing and snarling it's way across the meadow. At home, when it's in the garage, I look for things that it might need. I honestly don't know what else the car could benefit from unless it would be different wheels. I plan to sell the 17" Racing Hart C-2's and tires ($1500. plus shipping) I love those wheels but it's time for a change and another look. If any of you think you know what wheels the Beast needs, let me hear your ideas.
I may make a slight change to the head light bulbs, but that would be minor.
One of the better additions that I have made recently is the battery cut off switch. It's a large, heavy duty, racing type cut off that stops any power from flowing anywhere in the car during periods of inactivity. This means that with the flip of a switch, my battery is always ready to go.
Side note: The Jet Kart is going through some changes. One of them will be a name change. Jet Kart is already being used by a fellow in the UK with his kart project. We may look at "The Dragon" or "Dragon Kart"; fire breathing, smoke belching machine that it is :-) Plans are to take the jet powered cart on the Southeastern air show circuit this season. I am beginning to fabricate a roll bar for the kart. A small drag chute will be added too.
I know some of you think, "How can he be serious?". Truth is, The Dragon (jet kart) is a very satisfying, wickedly fast, serious little machine! It's also loud, fun and kids and adults love it.
Side Bar: At the Bessemer air show year before last, I ran into one of my friends and fellow pilots just after making a 110 mph screaming, smoking blast down the runway before 5000+ people. My sons took care of the kart and I met him walking through the crowd. He stopped me not knowing that it was me on the kart. "Hey Jim....Did you see that fool on the Jet powered go kart?". I answered, "Why yes, I actually know him pretty well." We both got a good laugh when he soon discovered who the driver was.

(01-30-04) This week My new turbo prop engine arrived. I bought it several weeks ago to use in a new project. What project you say? I don't have a clue. It is small and shaft drive, producing about 95 HP and close to 275 ft lbs of torque. It might make a nice turbine powered motorcycle. Imagine having that much torque!

(01-19-04) The Jet Kart is back home. Since it was the last big father son project that my son, Justin, and I did before his accident, I bought it back from it's owner in Appleton, WI. The Buell factory motorcycle racing team dropped it off in Birmingham during a recent testing trip to FL. It's good to have it back home again. My plans are to do some additional development work to the intake for the Jet engine, add front brakes, and add additional fuel.

The Beast is in excellent form; always quick, and always dependable. I had a "T" handle cut off switch added to the battery which allows the power to be completely cut. This has stopped any battery drainage from happening due to clocks, alarm, etc while the car sits.

The ankle continues to heal. This is the 4th month since the operation. I will begin to put a little weight on the new ankle after my next doctor appointment on the 29th of Jan. The transplant is growing into my bone and looks like it has a good chance to be successful. Recent X-ray below.
(10-08-03) A lot has happened during the past month which has and will continue to slow progress on the car and the site. I was notified that a donor was found for the ankle parts I needed. I flew to San Diego and had an ankle transplant on Sept 22nd. I am at home recovering with my foot in the air. This makes it really hard to work on the car. Recovery will take 5 to 9 months. I am in a cast and will not be able to put any weight on it until after the first of the year, 2004. Most of you have been aware of the difficulties that I have had with my left ankle, having had three artificial ankles which have all failed. The transplant is part of a study going on at the University of California, San Diego. They generally have a success rate of about 70%. I am having a little rejection and low grade fevers which the doc says is not uncommon in his patients after the surgery.
I will be back driving the Beast when I heal up enough to drive it again.
(09-07-03) With the rebuilt turbo back on the car performance is just outstanding! No...it was super quick before I sent the turbo off to Turbonetics. Although I hardly noticed the extra high pitched sound the turbo bearings were making before the repair, it is back to it's old self again.
One of my buddies, Brian Prady (and his new bride), came over last week and we took the Beast out for a short test ride. Now Brian is about the size of a tackle for Green Bay Packers. He is a "Big Un" as we say down south. I would guess he's about 6' 8" and close to 245+ lbs. I'm sure you get the idea. I figured that with both of us on board the performance would be a tad slower. Boy was I surprised! With Brian and I both in the car the acceleration was blistering. That was the first time I have driven it at 21 psi since the turbo repair. I can't wait to try it solo.
(07-29-03) The Beast went in to Barrett automotive to have it's oil and transmission fluid changed last week. Jimbo noticed an oil leak in the turbocharger. It was removed and sent it back to Turbonetics for a rebuild. It's been on the car for two years since the last trip to CA for modification.
When we removed the turbo I noticed that one of the turbo coolant hoses was leaking. I have been smelling a very slight coolant smell after the car is shut down. The hoses that cool the turbo have had a history of problems. Generally the problems are heat related. The turbo gets so hot that it cooks the rubber or liner material in the lines. The hose liner gets hard and cracks with engine movement and you have a leak. The last time the the engine was out I installed short 5 inch sections of pipe in the turbo water inlet and outlet to get the hose further away from the turbocharger. I also used orange Aeroquip aircraft (fire shield) hose cover the pipes and hoses and still it hardened and cracked. If any of you have a solution to this problem, let me know.
(07-13-03) The Beast is running like a Swiss watch. For the past several weeks I have been driving it as daily transportation. I have switched back to Amoco 93 octane fuel, reduced the boost to 12 psi and am using it to run around town. This is a new role for the car. I don't intend to use the car that way for long, but i needed a change for a week or so. I like the new mirrors too. They look great and work very well.
(05-30-03) The new Ganador mirrors arrived one week after I ordered them from Takakaira in Japan. That is the fastest I have ever had an order filled and shipped from Japan. There was no customs, no hassle, and the Post Office brought them to my door. The quality of the mirrors is excellent. I had to splice the wires as the plugs were not correct but everything with the install went fine. I am going to add a mirror install section to the how to do it section.

(05-28-03) I had an Alltrac visitor yesterday. It was Ross Burns with his super Red Alltrac. Ross and I swapped cars and went out to play in traffic. Ross has done an excellent job with his machine. It does everything well in addition to being one of the nicest Alltracs I have seen. Ross had a good time driving the Beast. The Beast makes some really strange noises under boost and when you run with a bit of throttle. It's a low rumbling growl that I have never heard in another car. It's actually why the name Beast was given to the car. We think it comes from the flexible intake track. Everyone who drives the Beast asks about the unique sounds while driving it. It's just one more thing that make it a very special car.

I took a bunch of pictures at the Concourse and at the Awards Banquet. http://www.mr2beast.com/sw2003.html
(02-07-03) Tuning was completed in Atlanta today. The "Hitman", Matt, is is a perfectionist and craftsman in his ability to master the Haltech system. Matt flew from Australia to work his magic on a number of cars in the Atlanta area. The Beast was driven the 160 miles to Atlanta to meet with Matt. I was impressed with the degree of detail that Matt puts into his work. He is not satisfied with providing good performance and tuning as are other tuners. Matt goes way beyond the work the good tuners do in demonstrating his absolute mastery of Haltech science. An example of his art could be seen at the end of his tuning session. He said, Jim, I can probably manage to get you another 10 hp if we do a few more tweaks. He ran dyno run after run in an effort to add 2 and 3 hp more on each new run. He adjusted the maps to gain more low end performance and generally smoothed the entire engines operation. I was "blown away" when I drove it. It's never run strong on the bottom end or as hard on the top. The Beast did 340.5 rwhp on a mix of pump gas and 100 octane fuel. The runs were made at 20 psi with the new low compression 8.3 to 1 pistons. I am very happy with the results.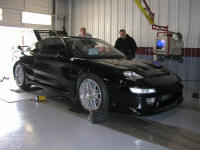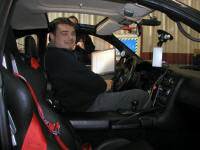 Beast on the Dyno Jet "Hitman" Matt
________________________________________________________________________________________________________