The Beast
Owned by Jim Griffin
Personal Data
Jim Griffin was born in Birmingham, Alabama. He has lived throughout the U.S. and several foreign countries traveling with his dad who was a U.S. Naval officer. Jim graduated from the University of Montevallo with a BS in Psychology and Biology. He has a Master's degree in Administration, and a Doctorate in Administration and Supervision from the University of Alabama. Jim has been a U.S. Marine, Police Officer, Teacher, and Elementary/Middle school principal. Due to a serious aircraft related accident, Jim was forced to retire early in December, 1999 after working 18 years in the securities field. He was a Regional Vice President for American General Financial Services.
Jim has two boys, Justin, age 15, and Chris, age 23. Jim's hobbies are MR2's, Flying (commercial pilot in helicopters, gyroplanes and fixed wing aircraft), Amateur Radio (K4UHM), Scuba (PADI Divemaster), Classical guitar, and Computers.

During the past 6 years, Jim has endured 17 ankle operations. After two failed attempts with early model Agility ankles, Depuy Orthopedics developed an experimental ankle for him. It was developed with the help of Dr. Roy Sanders (Florida Orthopedics) in Tampa, FL and Dr. John Gould (Health South) in Birmingham, AL. The ankle joint was installed by Dr. Sanders in Jan. 2001.
Two weeks after the surgery, the Fibula bone, which is located next to the new ankle, fractured. After flying back to Tampa, two plates and eight screws (X-ray 1) were added. One June 12th, 2002 the plates and screws were removed and three new screws were installed for additional support (X-ray 2). In late 2002 Jim's third artificial ankle failed leaving Jim with few options. Jim discovered that the University of California, San Diego had an experimental ankle transplant program. He flew to CA and met with the two doctors who ran the program and was put on a waiting list for donor parts. Six months later the call came and he flew to San Diego on September 21st, 2003 and had the surgery on the 22nd, receiving the ankle of a 27 year old man. After a short hospital stay he flew home to recover.
In October, Jim's 16 year old son Justin was killed in his 1993 MR2 NA automatic about two miles from their home. Justin's loss has devastated the family. See some of Justin's photos below.

Jim's recovery from surgery has taken many months but he is walking and looking forward to having the remaining screws and a plate removed this summer (2004).



The old and the new. X-Ray at far right shows broken screws ready for removal


X-ray showing new metal plates and 8 screws.
The big white object is the new titanium part. The smaller part under it
is chromium cobalt steel. If you enlarge the first x-ray and look on the right side by the top corner of the titanium part, you can see the small break in the fibula.


I have another website which is for those people who have ankle problems or want more information on this subject. It is a an information and support site. http://www.artificialankles.com


My hero, Mike Novosel,
Metal of Honor winner,
Vietnam 1969
__________________


Bob Gilliland and Jim. Bob was the original
test pilot for the SR71 Blackbird spy plane




Update: March 22, 2001. I am off the crutches and walking with a cane. This is the first of the three artificial ankles that feels like it might work. My foot has good mechanical motion. This time things feel smoother. I am starting to work on range of motion, stretching out the tendons and ligaments. Yes, it hurts. But it's worth the pain if I get a good result.
June 7th, 01: Met with Dr. John Gould this morning. We did new x-rays, checked out the bionic ankle, and discussed the plan for the next two months. I will be working on building up my left leg in a gym.
I am walking with a cane part of the day. I started taking Celebrex which I call the "miracle" drug. Next week I am going to Tampa to see Dr. Roy Sanders, the doc who did the last surgery. Both docs are two of he best ankle surgeons in the US. Things are looking better!
Sept 3, 2001. I have been walking for three months. There is still some pain in the ankle, but it's soooo good to be walking that I can almost forget about it. This week I am visiting with Dr. Frank Alvine who invented the artificial ankle. He is visiting Dr.Gould here in Birmingham. I know that I have at least two operations remaining. They plan to remove the eight screws and the metal plates next summer. I will also need to have surgery to rotate my foot inward slightly so that it walks on the flat part rather than on the outside edge. This has not been fun!

Jan. 2, 2002. The ankle remains a major limitation to what I can do. Walking always hurts. I have a max range of about 1/2 mile a day before it gets to the point of having to take medication for pain. I can drive a car with a clutch, but getting stuck in traffic is no fun. Given a choice I will take the automatic most of the time. My doc in Tampa agreed to remove the two plates and eight screws in the summer of 2002. I hope that will make a difference.

June 12, 2002. Operation number 16 was completed in Tampa Florida. The plates and screws were removed. New screws were installed. See x-rays above.

July 15, 2003. Ankle number three has become loose and needs to be replaced. I am currently on the transplant list at the University of California, San Diego for a human ankle transplant. This surgery will be done sometime during the next 6 months as donor parts become available.

July 06, 2004. After receiving an ankle transplant in September of 2003 the ankle is feeling more like a normal ankle. I still have to be careful with it as it finishes healing. Some of the screws holding the metal hardware together have broken and the docs think that they will remove the broken parts later this summer. Overall, the human ankle is a major improvement over the artificial ankles that failed.


__________________________________________________


Latest Acquisition

1989 Pearson sailboat

_______________________________________________

Assorted Photos


Jim's Computer Sailing in Pensacola



Airport Ducatti 900SS



My niece Kate






The S-300
Flying helicopters is like having a magic carpet.
This was my second helo. This was taken at the Sylacauga airport.


The Pitts S-1 "Younger days" Yamaha 250 GP Landing in the back yard


93 Celica All-Trac
What a sweet ride!
Sold to Alan Baxter in WA.


Jim's first MKII - a 93 NA - Sold
I loved this car.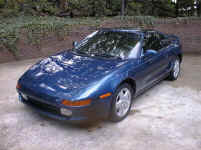 Jim's 92 Turbo - Sold
My son drove this 92T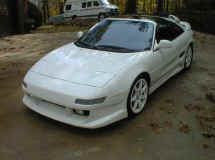 91 Turbo Modified "The Wraith" - Sold
Now living in AZ with it's new owner.

"Hello, I'm June. I am the one who puts up with all
the car parts, car guys, car girls, car phone calls, car e-mail,
MR2 meets, visitors, and a bunch of stuff you can't even imagine,
and loves every minute of it!"



June and Emily (My Niece)
June is a retired teacher, plays piano, reads,
shops, and works part time. She loves her Lexus and family.
She has a page of her own. Click the hover button below.


Click here for:

My boys





Justin Age 17
"We will miss your sweet smile and gentle spirit"
July 31, 1987 - October 22, 2003






Christopher
Age 25
Married May 18th 2002
Sunglasses Hut "Maui Jim's Poster guy
Rawlings Athletic Sock Model / SAM'S stores USA
TV commercials.
Excellent guitarist.
The Beast Web ///|||\\\ Copyright © 2000 Jim Griffin. All rights reserved.
E-mail: Ace123Jim@aol.com Web site: http://www.MR2Beast.com
Last revised October 22, 2002.